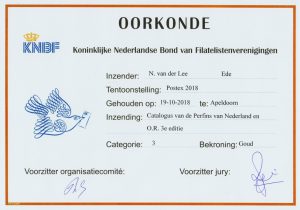 At the POSTEX national stamp show, which this year took place for the 20th time in Apeldoorn from 19 to 21 October, the 'Perfins of the Netherlands and OG, 3rd edition' catalog was awarded gold in the Literature competition category.
According to the jury consisting of Misters H. Buitenkamp and H. Burgman who evaluated the entries, this is about the highest possible award for a book of the type catalog.
Nico van der Lee, who manned the stand of the association on behalf of the Perfin club and, together with Jan L. Verhoeven, compiled the catalog, received a certificate for this. The jury awarded the catalog 83 points of the maximum 100 points.

As long as the stock lasts the Dutch perfincatalogue is available for the price of € 29, – (possibly plus € 5, – postage costs within the Netherlands, € 11, – within Europe and € 15, – outside Europe) at PCN treasurer J. Birnie-de Gelder, e -mail: penningmeester@perfinclub.nl.