Catalogue of the Netherlands and Overseas Territories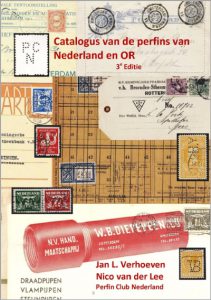 Price indications for perfins in various colors
Third edition, J.L. Verhoeven and Nico van der Lee, 2016.
Price € 29,- *
* New members get a welcome discount and pay € 16,- only for the catalogue on top of the contribution fee!!

>> Become a member now!! <<

How to order?
You can send your order to:
Jacqueline Birnie – de Gelder
e-mail: penningmeester@perfinclub.nl
After contact you will get payment instructions. Orders will be send after receipt of payment.
Shipment will take place immediately upon receipt of payment.
Payment in cash (by mail at your own risk) or:
Banktransfer to: IBAN: NL 68 INGB 0000954246 BIC (Swift): INGBNL2A
Paypal (Before using please contact penningmeester@perfinclub.nl)
No credit cards, no bank cheques, no bank drafts.
Don't forget to indicate your postal address in the description!
Cost of shipping & handling
Inside The Netherlands € 5.00
Inside Europe € 12.00
Outside Europe € 15.00
For alle other perfin catalogues
P.Meinhardt
Piet Heinstraat 36
2518CH Den Haag
The Netherlands
telephone +31703652227
e-mail: pwmeinhardt@collectura.com