The meetings are only accessible to members of Perfin Club Nederland.
You want to get acquainted to our club? That's possible, you are very welcome indeed.
The meetings always take place at Saturday, four times a year. At 10.00 a.m. the hall is open for social meeting to exchange things worth knowing. There is also a lot of time to exchange double perfin material. The meetings are well visited by our members form home and abroad.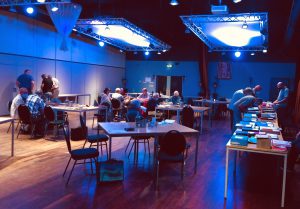 At every meeting a club auction takes place. Not only Dutch perfins are offered, but also foreign perfins, collections, literature and catalogues. During the meetings it is possible to study the lots before bidding.
The auction list (containing about 300 lots) including description of the offered material is sent together with our club magazine the Perfinpost. This magazine appears four times a year, approximately two weeks before the meeting.
Since a while a exposition cadre is available for members to present a part of their collection to the other members during the meeting.
In short always an interesting meeting worthwhile visiting. The meetings ends at about 4.30 hour p.m.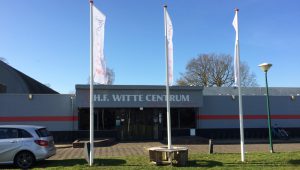 The meetings will take place in
Zalencentrum H.F. Witte, Henri Dunantplein 4, 3731 CL De Bilt
Telephone: 0031(0)30-2203954.
Directions you'll find here
Meetings in 2021:
Saturday December 4
Meetings in 2022:
Saturday March 5
Saturday April 30
Saturday September 10
Saturday December 3