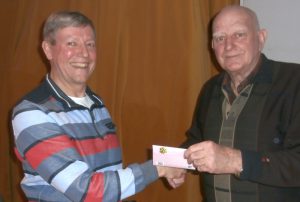 At the last meeting of the Perfinclub in De Bilt, Nico van der Lee was appointed as honorary member of the association. Nico is mainly known to the members as auctioneer and co-producer (in addition to Jan Verhoeven)
of the Dutch perfin catalog. He received his appointment as honorary member from chairman Rob Slim as a great appreciation for his years of commitment to the club.
The chairman particularly praised Nico's efforts at various philatelic fairs and exhibitions, where he promoted the Perfinclub and recruited many new members. From 19 to 21 March, for example, he can be found again at the National Stamp Show & exhibition of the Hertogpost Foundation in Den Bosch.
In addition, Nico has provided about 35 articles so far in the Perfinpost, the club magazine of the PCN. In addition, together with the webmaster, he set up a new website last year. He also had a major input in the creation of the Luxembourg perfin catalog.